We are just days away from the start of Christmas (Yeah, I know what you're thinking, its the 21st!! but Christmas is actually a twelve day celebration beginning the 25th and ending on the 6th.  Sad as it may seem, your red neck neighbor who keeps his decorations up into January might actually be… right.  Go figure. Oops, sorry… I digress).  I have been working on this new song for the holidays for a few months.  But the last few weeks have been hectic trying to finish this track.  To be honest, It kicked my butt.  It almost didn't happen, but I am tenacious if anything.  I reworked the track more times than I can remember and have done without sleep the last few weeks in a bid to complete it… I  struggled with the music, the lyrics, and then in the end, with a boat-full of technical problems… But, I am happy to say that after a great deal of frustration, I have now managed to get this new song to a presentable/downloadable state, just in time for the 25th:)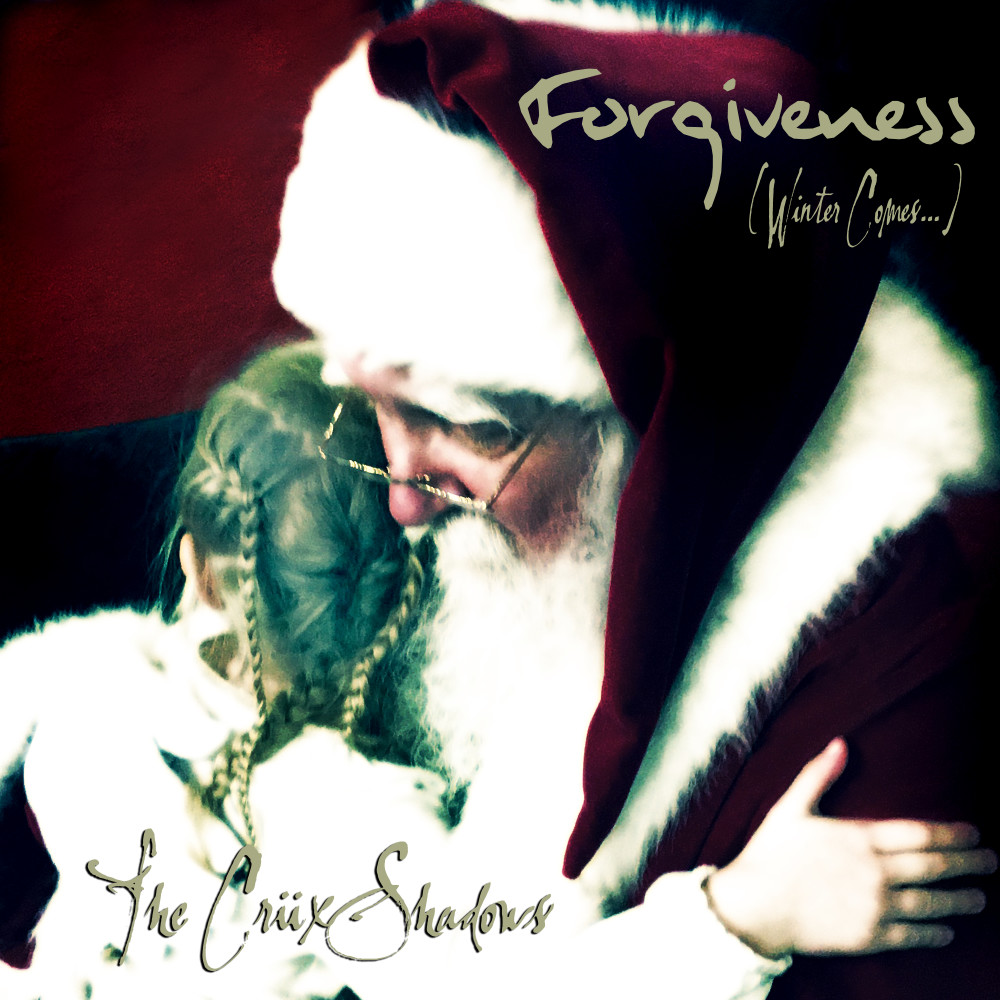 The new song is called "Forgiveness (Winter Comes)" and is more somber in its approach to the holidays. My hope is that it will carry some meaning for everyone.  We have all at some point or another dealt with absence, loss, estrangement, or separation from a parent, lover, family member, loved one, or significant other.  The holidays can make us happy when surrounded by the ones we love, but likewise it can also bring about great sadness when dealing with issues of absence or rejection. We often assign blames to others for our unhappy state… we often assign blame to ourselves for the unhappy state of others.   Somewhere in the midst of that understanding, I realized that what is needed at Christmas is the ability and will to forgive each other, as well as ourselves. The concept that Christmas is Forgiveness, seems to me to be simply intuitive to the spirit of the holiday, but I cannot say that I have ever heard anyone else present it as such.  Everything has a first time… So, Christmas is Forgiveness.
Despite the darker aspects of the song, the melancholy nature of Forgiveness is very much imbedded with elements of hope and love, and with the indelible spirit of triumph that is inherent in the celebration of Christmas.  I hope you enjoy the song.  I wish everyone the best of all possible holiday seasons.
All our Christmas songs are currenty offered as Free/Donationware, so there is NO CHARGE to download them.  But please, if you enjoy the new track, or the other Christmas songs, consider sending us something via paypal.  The generosity of our fans has made this little tradition possible… AND It really, really helps, particularly at Christmas time.  So… Thank you for listening.  Please spread the word- but be sure to share the link to this page of our site and not the files themselves if possible. (http://www.cruxshadows.com/news)
Merry Christmas- Live Love Be Believe
Rogue
*DOWNLOAD FILES BY RIGHT CLICK (pc) or CTRL CLICK (mac)*
Forgiveness (Winter Comes) (WAV)
Forgiveness (Winter Comes) (AIFF)
Forgiveness (Winter Comes) (AAC)
Forgiveness (Winter Comes) (Apple Lossless)
Forgiveness (Winter Comes) (mp3)
Forgiveness (Winter Comes) Lyrics
Past Christmas/Holiday tracks still available to download:
Light a Way (Back Home) (AIFF)
December Lights (Merry Christmas Dear) (MP3)
December Lights (Merry Christmas Dear) (AAC)
December Lights (Merry Christmas Dear) (WAV)
Tabhartas Dé (MP3)
Tabhartas Dé (AAC)
Tabhartas Dé (WAV)
Anmi's Christmas (AAC)
Anmi's Christmas (MP3)
O Holy Night (MP3)
O Holy Night (AAC)
A Promise Made (Wedding Day) (MP3)
A Promise Made (Wedding Day) (AAC)

There is no fee to download. If you like the songs please consider donating. Any amount is appreciated:-)