Just  a quick update to let you all know whats going on.
1. Sales of the new album have continued to look promising.  We have been ranked in the Amazon.com charts for electronica and landed at #1 for our September sales on Isotank's top 10 chart.  Cruxshadows was featured in Orkus, Sonic Seducer, Zillo, and Gothic in the past month, and our European tour was a big success overall.  Still, it has become very difficult to reach everyone with the news of our new release.  We are extremely reliant on word of mouth and fan enthusiasm to reach many potential listeners. We would like to encourage all of our fans to help us spread the word about our new album.  We need to increase our club play as well.  If you know a club DJ or internet DJ that might be willing to spin Cruxshadows, please encourage him or her to get in touch with us via our website. ( cruxshadows at thecruxshadows dot com )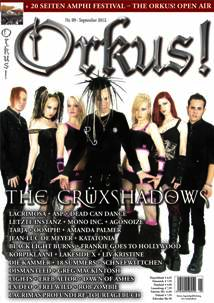 Having said that,
2. I am proud to let you know that As the Dark Against My Halo has debuted at #8 on Deutsch (German) Alternative Album Charts.  We have had a number of songs show up on the Singles Chart over the years, but this is our first CD that has appeared in the DACs album based charts to our knowledge.

And while we are on the subject of whats going on in Germany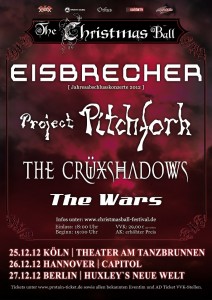 3. We will be performing a number of shows in Europe in late December and early January.  At the center of our trip to Europe is The Christmas Ball Festivals, a traveling indoor festival that will kick off on Christmas day and continues for a few days afterwards.  The Festival is planned for Köln, Hannover, and Berlin and will feature Eisbrecher, Project Pitchfork, The Crüxshadows, and The Wars.  You can get more information on the Christmas Festivals in Germany at their website ( www.christmasball-festival.de ).  We will have more information on other dates in Europe in the next few days, so stay tuned.

4. As many of you already know, we will be headlining the Dark Alternative stage at the Movement Magazine 20 Year Anniversary Party in jacksonville Fl.  Other artists at the 3 stage mini-festival also include Voltaire, Ego Likeness, DJ Rommel (from Razed In Black), Peter Pepper, Grandpa's Cough Medicine, Paten Locke, and much more.  Goth-Industrial, Rock, Rebel Bluegrass, Alternative Hip Hop… pretty much everything just outside the mainstream.  Tickets for the Nov 9th show are still available for $20 per person.  The event will be held at Brewsters Megaplex.  You can find out more info at the Movement Magazine Website ( http://movementmagazine.com/xx.html ).  We should have a few surprises in store, so if you can make it to Jacksonville on the 9th we look forward to seeing you.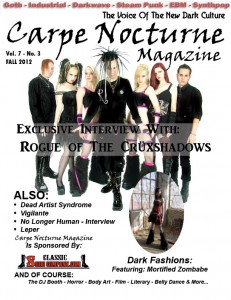 5. Today the online underground zine Carpe Nocturn features The Crüxshadows on the cover and an in depth interview with me (Rogue) that addresses a wide range of personal thoughts and behind the scenes insight.  Overall a very good (although long) interview that I think most of our fans will really enjoy.  Carpe Nocturn is sort of an oldschool glue and tape style underground zine that has made the difficult jump to digital format.  Its free and it showcases a lot of what is lost in our online world- the way they used to do it:-)  http://carpenocturnemagazine.com/
6. Finally… We now have a free app for both iPhones and Androids.  You can get it here- http://www.reverbnation.com/mobile-app/668/thecruxshadows
Thats it for now- just a quick update.  I will be back with more news very soon.
Until then…
Live Love Be Believe
Rogue of CXS