Hello everyone,
The title says it all… but a few quick things first:
It has been a busy December so far.  We started the month with our new album As the Dark Against My Halo ranked #1 on the DAC (German Alternative Charts).  Its the first time that one of our albums has occupied the top slot on any major chart as far as we know.  We have had a few #1 singles over the years, but never an album.  I am really proud of this disc and seeing it go to number one is really a good feeling.  If you haven't picked up a copy, it would make a great Christmas present- even if its yourself that you plan to give it to:-) Get it from iTunes or Amazon!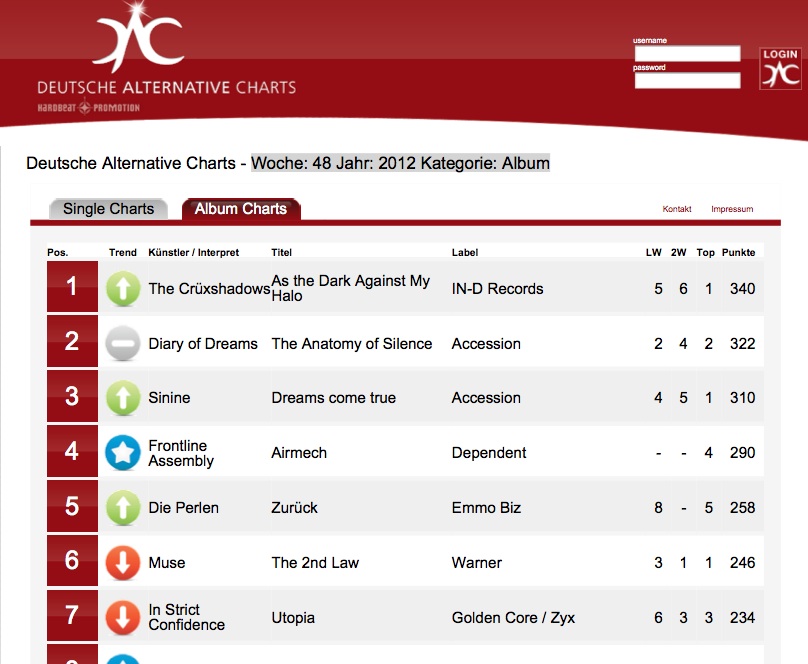 As most of you know we will be heading back to Europe to play a few shows… namely The Christmas Ball Festivals, but also a number of other Club and theater shows as well.  In all we will be out for about 2 and a half weeks with a show every night starting on the 25th. Unfortunately that means we will be on the road over the Christmas and New Years holidays, as well as Jessica' and my 5th Wedding Anniversary (The 5th day of Christmas).  Its going to be hard but if all goes well it will be worth it.  We will have Anmi with us and I am hoping that we can make our time on the road into something special for her… I really want her to have a good time, so keep your fingers crossed.  Maybe Santa will find the bus.  Maybe we will have snow!
In addition, It will be the first European tour for our new dancers Ally Knight and Stacia Hamilton.  I know we have not given them a proper introduction yet, but we will try and get Bio pages together for them as soon as we can.  Until then, heres a little pic:-)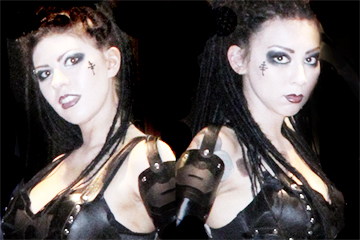 If you are a fan of the band in Europe and can make it to one of our shows, please come out and support our Christmas Tour.  It would be great to see as many of you as possible… And we plan to have plenty of copies of our new disc at the shows.
But I need to get to the main point of my post… Sorry, here it is:
I wasn't sure I would be able to get it finished.  But I did…
For the past few years I have started a little tradition of my own by recording a new Christmas song for the fans and putting it out a week or two before Christmas.  With the tour preparations, I was afraid that there wasn't really enough time.  But I put in some late night hours and happily I have made something I think is really special.  Its called Tabhartas Dé, and I was inspired to write it by a few old traditional Irish prayers and blessings I found.  I think that it is a unique addition to the world of Christmas music, and I hope you will give it a chance.  As with the other Christmas tracks I have written or recorded in the last few years, it is available here as a free/donation-ware download.  If you like it please consider making a donation via paypal.  If not- No problem, no fee is required to download it or any of the other Christmas songs .  Its just really appreciated.:-)  I am putting up an AAC & an Mp3 file… and I will make it available on a trial basis as a full quality WAV file.  The AAC(iTunes) file should include the lyrics and cover art embedded in it already.  Otherwise you can download the art and lyrics below.
I hope you enjoy the song(s) and I wish each and every one of you a Happy Christmas & a wonderful Holiday season:-)
Live Love Be Believe
Rogue
Here they are: The Christmas Songs
Tabhartas Dé (MP3)
Tabhartas Dé (AAC)
Tabhartas Dé (WAV)
Anmi's Christmas (AAC)
Anmi's Christmas (MP3)
O Holy Night (MP3)
O Holy Night (AAC)
A Promise Made (Wedding Day) (MP3)
A Promise Made (Wedding Day) (AAC)

There is no fee to download. If you like the songs please consider donating. Any amount is appreciated:-)