I have a pretty exciting announcement or two to make… But there is a lot going on, so first let me bring you up to speed: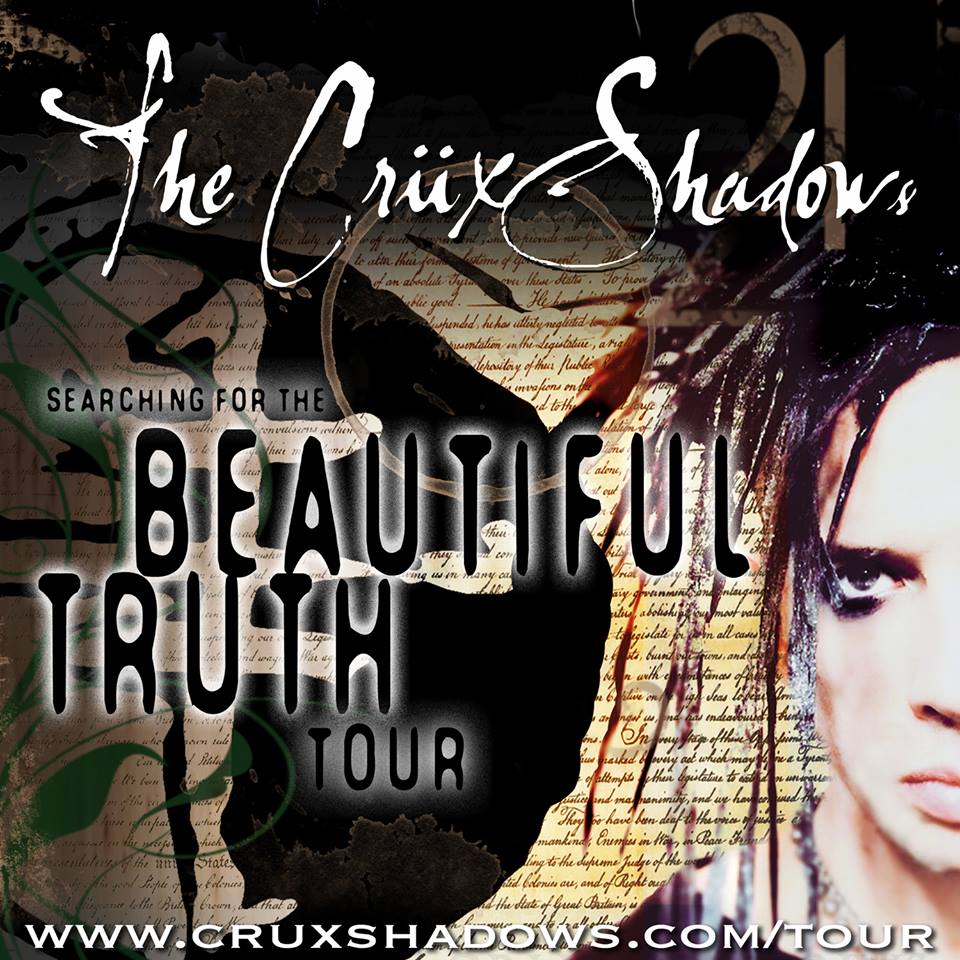 Searching for the Beautiful Truth Tour (the first leg).  We will be on our way tomorrow.  Crüxshadows will be playing a few shows in the UK anchored by our performace at England's most famous Goth Festival, Whitby Gothic Weekend.  The line up impresses me, and I have to say I am pretty excited to be back in Great Britain.  We will see a few of the bands we have been closest to over the years; Bella Morte and Last Dance from the USA will be there.  I'm a little disappointed we won't be able to hang out the whole weekend, it really is a great lineup… If you are able, come see us.  Our UK shows outside of Whitby will be supported by our friends in Bad Pollyanna.  If you don't know them, its only a matter of time; Great band.
Check out the video for Whitby which features our song Birthday here.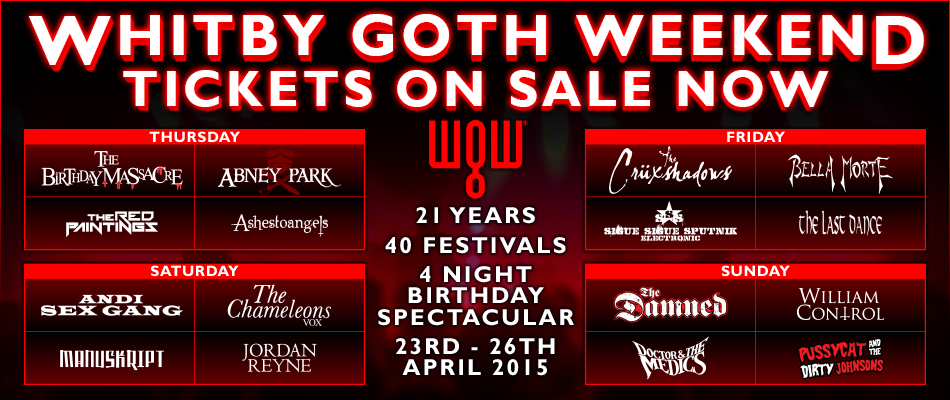 22.04.2015 UK-Glasgow, Classic Grand (+ Bad Pollyanna)
23.04.2015 UK-Manchester, Academy (+ Bad Pollyanna)
24.04.2015 UK-Whitby, 21. WGW 2015 (Headliner)
25.04.2015 UK-Birmingham, Institute (+ Bad Pollyanna)
26.04.2015 UK-London, Garage (+ Bella Morte, Bad Pollyanna)
As always we will do our best to keep you updated via twitter, Facebook, and instagram.  Please follow us/subscribe to us etc and see all the behind the scenes photos, thoughts, and insights.  We may even make some video content for our poor neglected Youtube Channel.
After Scotland & England we will head back to the Continent.  Germany is the central focus of the tour, but we will do a show in Scandanavia, as well as the Eurorock Festival in Neerpelt, Belgium;  The Orb, Oomph!, Apoptygma Berzerk… Looking forward to that.  Euro-rock used to be one of the premiere open air festivals in the European scene, and CXS had played it a few times before it shut down a few years ago.  Glad its back.  It looks to be as strong as ever…
In Germany we will team up with our good friend and rising star Monica Jefferies. Later Zeitgeist Zero will join us towards the end of this leg of our tour… So this looks like it is going to be a lot of fun.  Here are the shows in Germany, Sweden, & Belgium with the featured support.
28.04.2015 D-Bochum, Matrix (+ Monica Jeffries)
29.04.2015 D-Bielefeld, Movie (+ Monica Jeffries)
30.04.2015 D-Oldenburg, Cadillac (+ Monica Jeffries)
01.05.2015 D-Kiel, Die Pumpe (+ Monica Jeffries)
02.05.2015 D-Berlin, K17 (+ Monica Jeffries)
03.05.2015 D-Zwickau, Club Seilerstraße (+ Monica Jeffries)
05.05.2015 S-Malmö, Babel
07.05.2015 D-Göttingen, Musa (+ Monica Jeffries)
08.05.2015 D-Magdeburg, Factory (+ Monica Jeffries)
09.05.2015 D-Hamburg, Markthalle (+ Monica Jeffries)
10.05.2015 D-Nürnberg, Rockfabrik (+ Zeitgeist Zero)
12.05.2015 D-Stuttgart, Club CANN (+ Zeitgeist Zero)
13.05.2015 D-Frankfurt, Das Bett (+ Zeitgeist Zero)
14.05.2015 D-Aachen, Musikbunker (+ Zeitgeist Zero)
15.05.2015 B-Neerpelt/Sint Huibrechts-Lille, EuroRock 2015
16.05.2015 D-Kaiserslautern, Kammgarn (+ Zeitgeist Zero)
If all goes well, the next portions of the tour will feature shows in a few more countries including The United States & Spain, as well as a summer performance at The Amphi Festival.
New Dancers This Year!
So there is a bit of a change-up this year and we are pleased to announce the addition of two talented new dancers! Suzy Specter and Brittney Newsom have been working hard against a difficult timeline to be ready for the Beautiful Truth Tour.  Please help us in welcoming them into the CXS family!  We look forward to their contributions.

In Gardens.
The Tour this year has hit us with some unexpected costs, and we are operating from a bit of a disadvantaged position… Okay so thats the Bad News.  The Good News is this:  I decided that it might be a good idea to try and raise a little money going into the tour by writing and releasing a donation driven song.  I know, Its not Christmas BUT… we could really use the help and most people seem to like it when we put our holiday tracks up for download; So I guess this is basically an experiment… We will see how it goes.
The track is titled In Gardens and I hope you all will like it as much as I do.  It has a darker feel to it; seems a bit like an emotional storm moving overhead.  Give it a spin and see what you think.  Unfortunately I just completed the track this morning, so there really isn't any time to work it into our set. But who knows, If people respond well to it then it might show up in a future live set.  Its free to download and listen to.  Its a pay what you want deal, so we ask that if you like the song and you are able, that you please consider donating something in exchange for the track. Don't like it? Need time to grow on you? Your paypal is empty? No credit card? No problem… Keep the song.  Help us promote our tour online maybe? We're not trying to get rich… just trying to cover some of our expenses.  But please do consider supporting us on this.  The song is available as an mp3, aac, AIFF, & WAV. So there should be an audio file for everyone (more or less).
Let us know (via email or social media) if you like the track and if you think its a good idea for Crüxshadows to release songs in the future directly to our fans as donationware, or if you prefer getting your music from established sources like iTunes, or even if you are one of those people who only wants music on CD (or vinyl?).  I have mixed feelings myself.  Its a strange time we live in.  The music industry is changing, so I'm not sure there is a right way to do things anymore.
Anyway, thank you for your support on this, We really appreciate it. You can download the song, lyrics, & art below.
That should be it for now- See you on tour- Until the next time:
Live Love Be Believe
Rogue.
In Gardens (files) TO DOWNLOAD RIGHT CLICK (pc) or OPTION CLICK (mac)
In Gardens- Art
In Gardens- Lyrics
Dont forget to click the PayPal link… And Thank You.