Hello everyone,
It has been a long time since I posted. Yeah, I know… I always say that. May 3rd to July 18th is a little extreme. But I have a good excuse. Really. I have been hard at work on our new album, and I am happy to report that it has a name. But, I will get to that a little later- I have a few more important announcements to make first…
So. I want to say thank you to all the people who wrote us asking about playing keyboards for Cruxshadows. Since my last post we tried out several keyboard players & I am happy to say that we found someone who we think will do really well for us. She has been doing an amazing job so far, and I believe she will make a very positive addition to our live show. Her name is Jen Jawidzik, but some of you may know her as Pyromantic, as she has been part of the extended CXS family for some time now. In the past few years, she has actively worked in the promotion of the band, and was instrumental in getting the myspace up and running. Did we mention she is a really talented keyboard player? Well she is, and her dedication to all things Cruxshadows have already made her an asset to our lineup. It was really important to us to find someone who understood what CXS was all about… I think Jen is just what we were looking for. Please feel free to drop her a line at jen@cruxshadows.com and welcome her aboard:-) you can read her bio page by clicking here.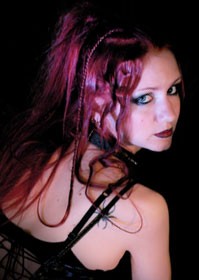 Today the Neil Gaiman- Where's Neil when you need him? CD was released. The disc features liner notes by Neil Gaiman and artwork by Dave McKean, and includes songs influenced by Neil's many works… by the likes of Rasputina, ThouShaltNot, Tapping the Vein, Lunascape, Deine Lakaien, Thea Gilmore, Rose Berlin, Schandmaul, Hungry Lucy, Voltaire (& the Oddz), Future Bible Heroes, Razed in Black, Ego likeness, Azam Ah, Joachim Witt, Tori Amos, & yours truly- The Cruxshadows. Our Track is called Wake the White Queen and we really enjoyed being a part of this project. This is a very special disc and it should be available in stores- TODAY!!!! nuff said;-)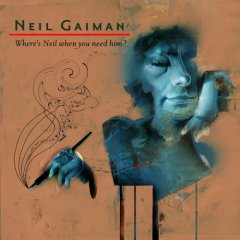 I am happy to announce that we will be rereleasing The Mystery of The Whisper in a deluxe edition. It has been out of print for over two years, and we thought it was about time to put it back out on the market. The disk features all new artwork and was remastered in Germany by Jochen Schoberth. As if that wasn't enough, It will contain a second disc- a newly remastered Until the Voices Fade as part of the package. The Deluxe Edition will be on sale September 5th, but for those of you heading to DragonCon- If all goes well- it should be available for sale there, a few days before street date…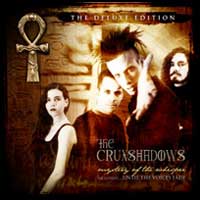 But there is more. We will also be releasing our new single Sophia at the same time. Sophia is the first song from our upcoming album. The single features 3 versions of Sophia, and 2 new B sides and should be priced at $5.99. It is incredibly important to the success of our upcoming album and so we really need all of our fans to consider buying this disc during in its first week from a sound scanning point. We are hoping to chart in the United States (as well as Europe) with the release of this CD. Doing so could really open up a lot of possibilities for our new album. You can preorder the single at isotank.com (yes- finally it is a soundscanning point!) and we will soundscan at Dragoncon as well. Other soundscanning points are usually chain stores- or stores that actually "scan" the upc code at checkout. In the US, this is where they get sales figures from. We hope we can count on our fans to help us out. Buy one for a friend as well in the first week, and we will love you forever;-)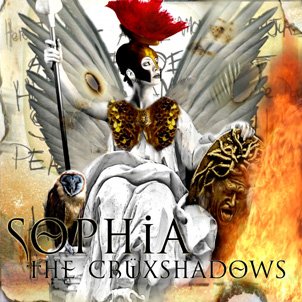 The tourdates for South America have been moved. With all of the releases we have planned, we needed to move the South American Tour to the period following DragonCon. This will hopefully give us enough time to complete work on the new album. The new dates are as follows:
16.09.2006 BRA-São Paulo (SP), Odyssey Club
20.09.2006 AR-Buenos Aires, El Condado
22.09.2006 RCH-Santiago de Chile, Blondie Club
23.09.2006 PE-Lima, Noctulus

And speaking of tour-dates. Many of you have asked about tourdates in the United States. In 2006 we will be playing an exclusive North American show at DragonCon. It looks like this show will be the first one that Jen will play with us, and we will be introducing the new single as well as the Mystery Deluxe Edition… So aside from being one of the most unique & entertaining events you will ever attend, it should be exciting for a lot of Cruxshadows related reasons as well:-)
AND finally, as promised… The new album has a name and a tenative release date.
The week of Jan 19, 2007, The Crüxshadows will release DreamCypher, our first full length original album since Ethernaut (2003). I have to be honest… I'm excited.
So I guess thats enough news for now… there is more to come soon. Really. Well, more should be coming soon… if I can just keep up with things…
My best to you all-
Live Love Be Believe
PS- To all those who sent me happy birthday messages, I really appreciated it. You are fantastic people… thank you.