I realize these post have not been as often as I would like… I apologize. It seems that time is a scarce commodity sometimes. But here are a few of the things that have been going on behind the scenes…
The last few months have been difficult, but rewarding at the same time. As most of our fans know we are constantly traveling, and when we are not, we (or I) tend to be in the studio working on new material. Following our North American tour, we have been spending a lot of time in Europe, and of course we made our first trip to Asia where we played a couple of shows, including China's largest music Festival- MidiFest. Midi is the name of a prominent school in Beijing that sponsors the event. It was a great deal of work to get into China, lots of red tape (no pun intended), and the plane ride was about 18 hours from Frankfurt. But that festival was just amazing. I can't really describe the feeling that I had playing it… it was something extra special. There were thousands of frenzied music fans and although I am not sure if they knew who we were, they sure acted like they did. Here's something we found on youtube… I guess despite the lo-fi thing going on and the odd perspective its kind of cool in that it shows you a little bit of what went on…
But wasn't all business. Fortunately we were able to do some sightseeing while we were there… We saw the forbidden City and the great wall. As far as we are aware, we might possibly be the first "goth" or "darkwave" band to play in The People's Republic, and we are almost certainly the first "scene" band from the USA to do a concert there. I am pretty positive that we will be back:-)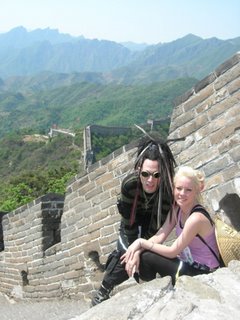 Its kind of exciting… We have broken through so many barriers and crossed so many boundaries that I never could have foreseen. Reflecting on things I think we really have been fortunate over the years…
Anyway, we returned to the USA only after finishing another 2 months in Europe. We were the headliner at the Whitby Festival in the UK and then following a club tour, we headlined the Wave Gothik Treffen (Germany) on the main-stage Sunday night. In order to get to the show in time we had to do a 20+ hour 'death drive' that began with us headlining a small festival in the South of Spain on Saturday night. immediately following we set off for our show at the WGT in the eastern part of Germany… It was crazy; Literally- we traveled from one stage to the other directly… 2500 kilometers away. But we did it… and i thought the shows went great. I was really proud of CXS… but it was not easy.
We returned to Florida and began work on the Birthday single. Yes, I said the Birthday single. No rest yet… sigh.
With Dragoncon looming on the horizon, we have decided to take another stab at cracking the billboard singles charts. The truth is that the success of the Sophia managed to open up a world of possibilities for the band: radioplay, better venues, tv exposure, and plenty of print media coverage. A second "hit" could do even more. I think Birthday is a great song. It means a lot to me, and I actually wrote it on my birthday in 2006. Interestingly enough, we started working on putting together the single on my birthday in 2007- go figure:-) Jen, Jessica, and I collaborated on the artwork and we tied it all together with a subtle Alice in Wonderland theme. We created three variations on the title track: a full length, an edit, and an extended dance version. We also added a new B-side called The 8th Square, as well as finally recording our own version of Jefferson Airplanes's White Rabbit. I feel like this disc has a lot of potential. And I really believe that success comes to those who believe in what they are doing… to those who are prepared to take chances… So here goes. We are trying to keep the cost of the CD low, as we did with Sophia. Hopefully the fans will rally around Birthday as well. The single will be available at Dragoncon and in stores the first week in September. It is also possible to pre-order the CD now at isotank.com. Just click here for details.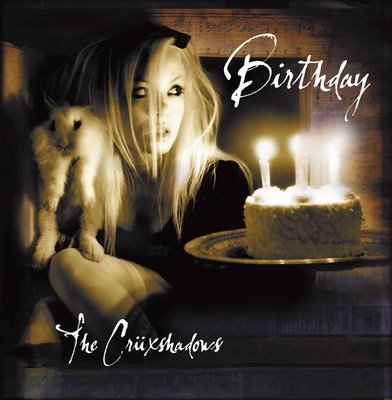 One quick note those of you going to Dragoncon. Our table has unfortunately been relocated. So we will be in an entirely new place and it might be harder to reach new and potential fans for us this year. Please help us by spreading the word about the band at the Con, it really does help:-).
With Rachel leaving we are of course looking for a new violin player. We have found some promising talent, but we are still open to hearing from anyone who believes they might have what it takes. But we are hoping to make a decision regarding who will next play for Cruxshadows soon, so if you are holding out- please contact us snow. You can send us an email at cruxshadows@cruxshadows.com.
Rachels last performance in Europe is scheduled to be the Mera' Luna Festival, sometime around 3 pm on the mainstage… and her last last performance in the USA will be at Dragoncon around midnight on Sunday evening. Please make your plans early to attend and give her the send off she deserves.
We played in Frankfurt, Germany tonight. We performed at a very famous venue called Batschkapp. I have to say that despite me feeling the rust caused by the few weeks we spent putting together the Birthday single, the audience was really very enthusiastic and supportive. The club had a nice staff too. Tomorrow we play in Dresden before proceeding to Belgium, then the UK, and finally finishing up with a few more club shows in Germany, a festival show in the Netherlands, and two more German festivals. It should be fun, I hope we will see many of you over the next 2 weeks. Here are the remaining shows as of tonight:
UPCOMING SHOWS
Europe-
02.08.2007 D-Frankfurt, Batschkapp (+ Behind The Scenes)
03.08.2007 D-Dresden, Strasse E (+ Behind The Scenes)
04.08.2007 B-St. Niklaas, JOC Kompas
05.08.2007 UK-London, Electric Ballroom
06.08.2007 UK-Nottingham, Rock City
07.08.2007 UK-York, The Junction
09.08.2007 D-Krefeld, Kulturfabrik (+ Behind The Scenes)
10.08.2007 D-Balve, Rock am Schloß 2007
11.08.2007 NL-Utrecht, Summer Darkness 2007
12.08.2007 D-Hildesheim, M'era Luna 2007
USA-
August 31- Sept. 3rd- DragonCon in Atlanta GA
ok. I am exhausted and we have a long drive tomorrow morning. So I will end there. Hope there has not been too many typos or odd phrasings;-) To all of you- Live Love Be Believe.
Rogue