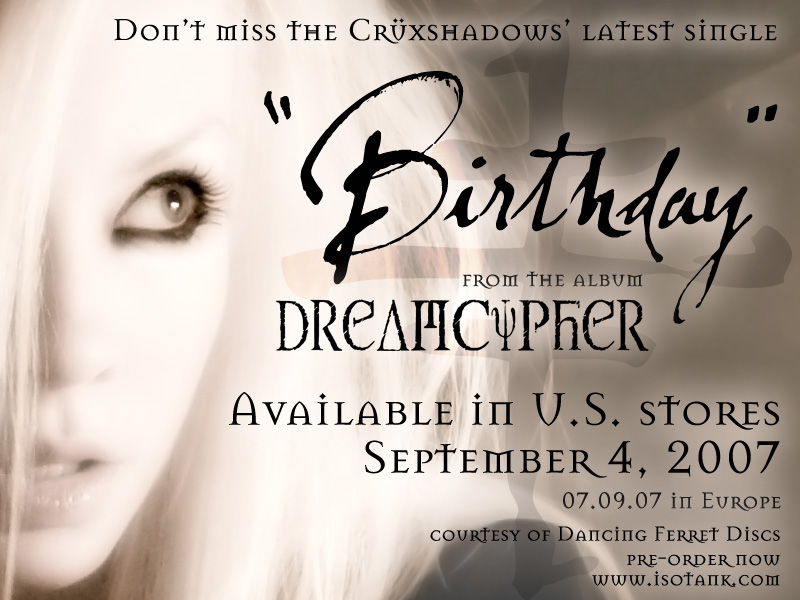 Hi All,
Just a quick post regarding DragonCon and The Birthday single.
Dragoncon is this coming Labor-day weekend, and we are deep in preparations. The time and location has been announced and we will be playing Sunday night in the Centennial Ball Room around Midnight. As I mentioned before, it will be the last show with Rachel, as well as being the last show on our Dreamcypher Tour. I expect that many things will change in the future, so this really is an important show for CXS and for our fans. If you can make it please do.
We will of course be releasing Birthday as a single, and launching that release from DragonCon as we did with Sophia last year. Dancing Ferret Discs feels that it is possible to make the Billboard charts again. But this isn't the kind of thing that will happen by itself… we really need our fans to support this disc… especially in its first week. There are a lot of things that are against us, but by concentrating our sales at or near the CDs release, we feel that once again we will be able to compete with major labels and their marketing machines. Doing well on the charts opens up many doors to the band, so I am asking everyone to really get behind this Birthday CD. Its a great song. I know many of you have Birthday already… because you own a copy of Dreamcypher, but please consider buying the single version. It contains two new B-Side tracks; The 8th Square and a remake of Jefferson Airplane's White Rabbit. It also contains three versions of Birthday, and even the album version has some minor changes added to it. Pre-orders at Amazon and Isotank.com should count towards Billboard, and CDs bought in any store like Best Buy & Hot Topic should count as well. CDs sold at DragonCon will be entered into the official tally and we will be pushing it really hard there.
We chose Birthday because of its content; it is one of those songs that really seems to hit the mark. It is the kind of song that not only means a lot to us, but many fans have fealt a real connection to it as well. I got the CDs in hand yesterday and I have to say they look and sound great. We are really excited. So in honor of the single's release, and as a way of saying thanks to our fans, we have released a full resolution version of the Birthday video through our podcast for free. Yep, You can fetch the file from the podcast section of our website (found on our downloads page) or through the iTunes store. Either way its free. We shot the video in Beijing and we hope you all enjoy it. We also have a number of Birthday themed wallpapers. Both the wallpapers and the podcast link can be found on our download page. Enjoy-
Wish us luck:-)
Live Love Be Believe
PS- Keep in mind our table at DragonCon will be one floor down from its normal spot, near the area where registration takes place. Hope to see you soon:-)