The best Birthday…
I received a call from our record label early this morning. And it's true… lightning has struck twice! According to Billboard.com, the official website for Billbooard magazine, Birthday has reached the number 1 spot on the Hot Dance Singles Sales Chart and the number 2 spot on the Hot Singles Sales Chart! We got a very nice push from Hot Topic. Sales from Amazon.com and Best Buy helped us a lot too. There were pre-orders from isotank.com, there were people that got it through iTunes, and there were a lot of indie record shops that have been supporting us for years… But the difference maker was of course DragonCon. The CD sales generated from DragonCon put us over the top and helped us to land our second Billboard #1. It seems unbelievable just writing that… But even more bizarre, Sophia re-entered the charts and climbed back to the number three spot on the Dance Charts, and the #23 spot on the single sales charts!!! CXS has two songs on the Billboard Charts at the same time… this week!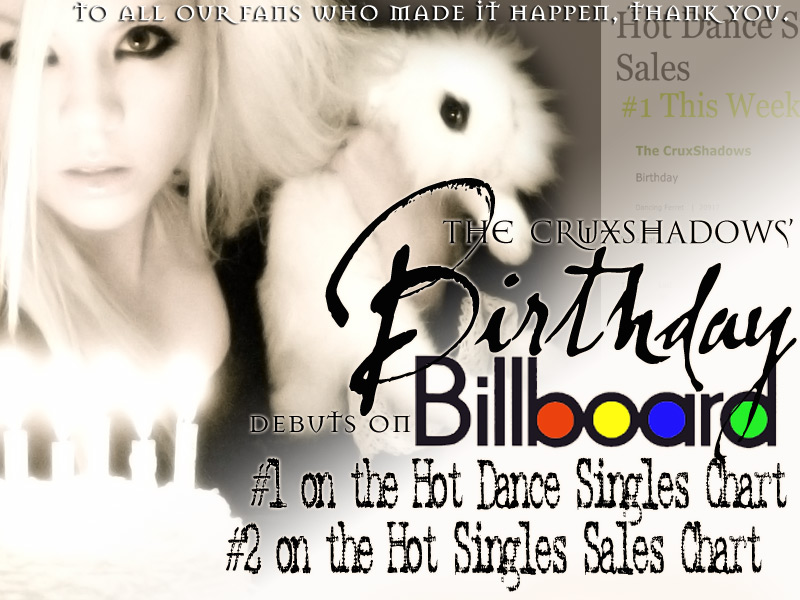 So the first and most important thing I need to say is Thank You. You, our fans, are part of this. You are why there is a CXS at all. Without you we are nothing really…
Since DragonCon had such an impact on things, there are a people that i would really like to Acknowledge. The Staff of DragonCon is an important one; for taking care of us each year… but particularly this year. And for having us back each year… The CrüxShadows Fairies deserve a a very big thank you too… because the difference they make is so huge and we could not have pulled this off without our winged street team. And lets not forget the people that worked our sales booth… particularly Laura. Laura was our merchandise person for the entire DreamCypher Tour. She did an amazing job. Salesperson of the year perhaps?
The performance at DragonCon was the perfect end to our DreamCypher tour. As many of you know it was Rachel's last show and I know that she will not soon forget the affection the crowd had for her. I thought the entire band had a great show. I was really proud of them all. I know that there are big changes coming in the future, but they each played tightly and with an amazing enthusiasm. The Ballroom was filled to capacity- One of the members of the Security team told us it was the best attended event at DragonCon… ever. True or not, it was nice to hear and the room was filled to capacity. And I should definitely add that Zach's lighting was the best I have ever seen at DragonCon. I think it was a good show:-)
I wrote the song Birthday on my actual birthday in 2006 and it was the last song I wrote for DreamCypher. Birthdays have always been intensely introspective for me, and I decided to write down some of what I felt and turn it into a song. It completed the album for me, and all the pieces seemed to fall into place. One year later, again on my birthday, I found myself putting together the Birthday single. I did not expect people to love this song as much as they do… In fact I was honestly afraid that people would dislike it. But the response to it has been nothing short of astounding. So many people have written to tell me about the impact that it has had on their lives. Our record label made the decision to release it as a single with very little time remaining before the deadlines. Anyone who knows me knows that I am all about facing impossible challenges, but this hill seemed to steep to climb. I was looking at having to do the writing, audio recording, editing, engineering, photography, artwork, graphic design, liner notes, layout, mastering, and proofing- all in the two weeks prior to the last leg of our tour in Europe. At times I felt overwhelmed and everything seemed hopeless. But nothing is impossible… Jessica and Jen both went above and beyond spending many sleepless nights to help in the creation this disc, and so I thought it was fitting that the results from Billboard would be published within a few hours of Jen's birthday! Happy Birthday Jen:-)
Much of what I would like to say, I said the last time we made it into the charts. But I will try not to be too redundant:-) I want everyone to realize just how significant the role of the fans is, and how much we love them. Crüxshadows is very special to me. It is something spiritual and something true… When I started this project in 1992 it was with a desire to make music that conveyed something meaningful and positive. I had a vision; a dream. I wanted to make a difference in people's lives through art, poetry, music, and performance. Despite the many changes and challenges the band has edured, we have stayed true to that vision. Still, over the last 15 years many people have tried to lessen what CXS has accomplished and have tried to dilute its significance. People will always attack what is different, what they do not understand, or what they feel threatened by. It has weighed heavy on me… the negativity that is often aimed in my direction. Pair this with the unending barrage of work necessary to keep us moving forward; the constant traveling, the tight schedules, the stress and responsibility, the expectations of so many people….
Its hard. But through it all, the fans and supporters of this band have been my light… my lifeline. And this is where I want to be… Who I want to be.
I have seen CXS profoundly touch the hearts and minds of so many people. God knows I have been very fortunate in that respect. That is the greatest reward for any artist. I have over the years realized what Crüxshadows really means, not only to me, but to our fans. Some people don't get it, and thats ok. When I watch the video for Birthday which we shot on stage in front of a huge crowd in China, it strikes me… I stood on stage in a communist country and sang "look at your life, who do you want to be before you die, look at your life, you haven't got forever". Music does make a difference. There is a satisfaction in knowing that this song- Birthday – is on top and in the record books, even if its only for a week.
Thank you for believing. We love you all…
Live Love Be Believe
Rogue