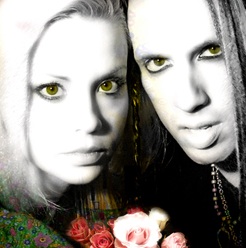 Merry Christmas, Happy Holidays!
A few days after Christmas,I am happy to say, Jessica and I will be getting married. I wanted to do something really special, so I wrote and performed a new song as a kind of gift to Jessica. We thought you all might enjoy having a copy of it, so for a limited time(?) we are giving this song away as a Christmas present to all of our fans. Its a way for us to say thank you for all the support you have given us, and in a minor way, include everyone in our event. We wish we could have invited you all to celebrate with us, but its just not possible…
The song is called- A Promise Made (Wedding Day). It is available in AAC format and will work on most computers and iPods. I hope you all enjoy it.
You can get the song here, or as a part of our official podcast in the iTunes store:-) Just download from this link- WeddingDay.m4a
I will see about putting up some pictures of the wedding afterwords- hopefully we will get some good ones. And I have lots of other important news to deliver in the next few weeks, so stay tuned. I will be updating again very soon.
Thats it for me on Christmas Eve. Much love to you all.
Be safe & have a Happy Christmas- Live Love Be Believe- Rogue