Hello everyone,
I have a number of important things to tell you about.
First off, we are happy to announce that we will be releasing a new single in July.
The song is called Immortal and is available currently for pre-order from isotank.com… and soon pre-ordering should be a possibility on Amazon as well. The single will feature 3 versions of the title track, and two additional and exclusive tracks… one of those is an all new version of Ariadne and the other is a completely new song titled Exile. I am really excited about this disk. Not only do I think the new songs sound amazing, but they are played by and recorded with the now current lineup… but I am getting a little ahead of myself.
You can preview a little bit of the Immortal single on the cruxshadows.com audio player.
If all goes according to plan, the single will be followed up with a special "Best Of" disc sometime later this year. I will give more details as they become available.
Secondly, The Immortal Tour, which takes its name from the new single, should be pretty exciting. It begins in Germany on the 1st of July. We will play shows all over Europe before heading back to North America to continue with the next leg of our tour. We have confirmed that we will be performing at DragonCon '08, and we look forward to kicking off our US dates there, in Atlanta, Georgia. DragonCon is both a favorite of ours and a favorite among fans, and if you have never attended, it is well worth checking out.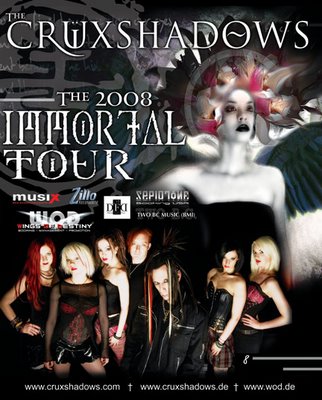 North American dates will be posted as they become available.
I know many of you have been curious about some of the lineup changes that have occurred in recent months, and I am pleased to finally release the names of the individuals we have chosen to be part of CXS. So here we go… you can find out all about each of them on their bio page by clicking their name.
As many of you already know from my previous update, Valerie Gentile will be playing guitar. I can't say enough good things about Val.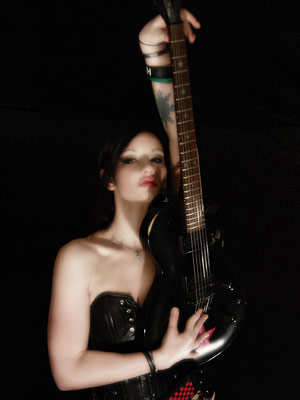 When it came to finding a new violin player, we had a very difficult time. The truth is we could not make up our mind and ended up with two violinists, giving us our very own string section:-) Our new violin players are David Wood and JoHanna Moresco. David is a classically trained violinist/violist from Wyoming and Johanna is a self taught player from Kansas. They have completely different playing styles, but together not only allow us to do what we have done in the past, but add a new dimension to the arrangements and open a whole world of possibilities… and we liked them both too much to choose just one.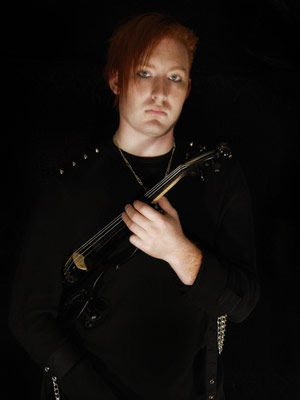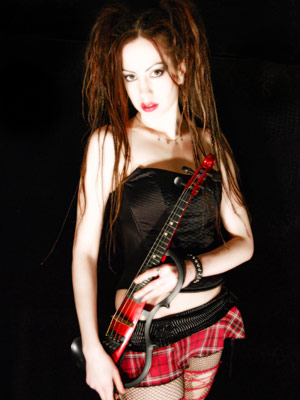 On the opposite side of the stage from Jessica, will be our new dancer/backup singer Sarah Kilgore. Sarah has been interested in dancing for CXS for a few years, and she is certainly qualified. She is a trained dancer with over a decade of experience in contemporary, modern, ballet, jazz, & tap dancing styles. In college she competed on ESPN at the UDA nationals and was named a UDA All Star. She has worked as a choreographer and dance instructor, but seems to be a perfect match for the band.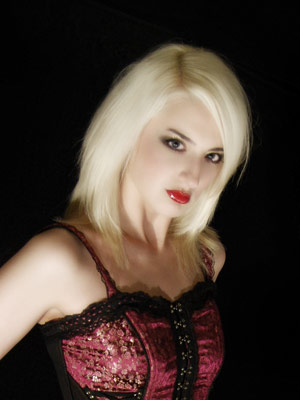 Everyone has been working hard to put all the pieces in place. It has not been easy. There is a lot that we still have to do… And there is a tremendous amount of pressure on each of them. But I really like this group of people, they each add something special to the Crüxshadows. I hope that you all will enjoy seeing and hearing them play as much as I have enjoyed working with them so far. From where I stand, the future looks very bright.
One last note. I recently popped up in a comic strip from England, as a jelly bean… or a Gothy Bean to be more accurate. Here's an excerpt we liked. Click on the picture to see it a little bigger:-)

If you want to check out more Gothy Beans you can find them here or just go to www.gothybeans.com
my best to you all-
Live, Love, Be, Believe
Rogue