Hello everyone-
Sorry it has been so long since I posted last. There is so much going on that I don't really even know where to begin, and it has been difficult to keep up with the news to say the least. But I guess you have to start somewhere, so here goes…
Cruxshadows is (and has been) dealing with a number of issues behind the scenes that have occupied a great deal of time, and placed a serious strain on our infrastructure. I can't get into everything at this time, but suffice to say there is a lot occupying our attention and cutting into the productivity of the band. Still, despite a number of serious setbacks, we are continuing to move things forward, and with the support of our fan-base are confident that the future will be very bright.
Here are the things I can share with you…
Our Website…
Firstly, It is important to note, that due to issues outside of our control, the address www.cruxshadows.com, may at some point in the near future be redirected by a third party to a website other than ours. We are currently taking steps to rectify this situation, and have secured several other domain names that all point to our website as a workaround in the event that this actually happens. If www.cruxshadows.com goes down, one of these domains will become the primary link for Cruxshadows official website until we can secure our rights. Please add one or two to your bookmarks or links on your website or myspace page.
www.officialcruxshadows.com
www.thecruxshadows.net
www.livelovebebelieve.com
www.cruxshadows.org
www.thecruxshadows.org
www.cruxshadowsmusic.com
All of them are currently up and working. Type one in (or click on one). I particularly like livelovebebelieve.com.
We should let you know as well, email to the band ending in @cruxshadows.com may no longer reach us if the website is redirected. This of course, creates a lot of difficulty. Additional issues, such as our podcast, our audio player, and our news & RSS feeds will also likely be affected. We will try to get new email links up and operational ASAP.
Now in all fairness, as of this posting, cruxshadows.com is still working… and is still under our control… and its still the best way to access information on the band. In the event that www.cruxshadows.com ceases to function, we will explain in detail what has happened on our other websites and on www.myspace.com/cruxshadows. Additionally, our myspace page, the forums at www.cruxshadows.info, and our German language site at www.cruxshadows.de will not be affected in any way.
whew… okay, hope that wasn't too confusing…
On the subject of the internet-

Cruxshadows is now on twitter. More amazing than that is its actually me doing it:-) You heard me right. My friend, DJ Arkitekt, was in our studio helping me with some remix issues. He decided we needed a twitter page. He set it up, and posted the first tweet from us (yeah the first one was really him). So…. now you can follow what I do. I can't imagine it would be so much fun to read… but… It is easier keep up with than blogging, and it might be cool while we are on tour. Check it out:-) Here's a link… www.twitter.com/thecruxshadows
Now news about the band-
Earlier this year, Valerie Gentile (our guitar player throughout our 2008 tour) found herself unable to continue with Cruxshadows. She has left the band for personal reasons, returning to New York City. Her time with Cruxshadows was very short, but we all enjoyed having Val play in the band. She was very enthusiastic, had a great stage presence, and brought a humor to things that all of us will certainly miss. We wish you the best of luck Val, and success in all of your future musical endeavors.
Finding someone to play for Cruxshadows is not as easy as you might think. We not only have high skill requirements and difficult time commitments, but we also need someone who gets along well with all of the band members, can deal with long tours, and understands the uniqueness of CXS. It becomes really difficult as so many of the typical ways that things are done in the rock 'n' roll world have no application in what we do. After several months of searching, however, we are pleased to announce that we have found a guitar player, and will be moving forward with our tour plans for 2009.
Our new guitarist will be cassandra Luger. Cassandra is from Tallahassee, Florida and has been part of the music scene here for a number of years. She began her musical training at an early age, and progressed into an accomplished singer songwriter. She enjoys composing music on the piano, but the guitar is by far her weapon of choice. We are confident she will become a valuable addition to the band, and we are looking forward to the upcoming tour-dates together. We hope that all of our fans will make her feel welcome… we think she's pretty cool.
And What About Touring…??
Of course, I said something about touring… So… Announcing our Quicksilver Tour.
Currently we are spending long hours practicing for our European dates as part of the Quicksilver World Tour that will begin in a few weeks. Honestly, everything is coming so fast. There are updated tour dates on our tour page, as well as www.wod.de. Look for us on the Mera Luna Festival this summer, as well as Summer Darkness Festival in the Netherlands. We will be playing some smaller more personal shows across Germany, and a few shows in Eastern Europe including Prague and Budapest.
We are also making plans toward visiting South America in the second half of 2009. Stay tuned for that and we should be listing dates soon.
We will be heading to the UK towards the end of the year (November), as well as adding a number of other European dates to that Leg.
While I am listing out where we are headed this year, I think we should make mention of one trip that will not end up happening as we had planned. We have spent the last few years trying to get to Iraq to play for the troops. Its just something that I have really wanted to do. We got the run-around from the USO for a while, but continued our attempts to make something happen. Recently, it appeared that all our efforts would pay off when we were contacted by the US Army directly, and they made plans for us to appear and perform a series of shows across Iraq. Unfortunately, military budget cuts have caused the cancellation of our tour. Disappointing to have come so close… but we have not given up yet and would certainly appreciate it if any of our fans have any connections that might help us in this department. ( Are you listening John Ringo readers? ).
Most of our shows in 2009 will take place outside of the United States. However, we will be playing DragonCon 2009 again this year. Hopefully this will give many of our fans in the US the opportunity to see us play, prior to our next US Tour which should take place sometime in 2010. A lot has changed this year, I know our table will be nowhere near where it used to be… a different hotel I think… We'll try and get the details and pass it on to you. The celebrity list this year is extremely impressive including Leonard Nimoy, Traci lords, Patrick Stewart, and too many others to name. As a big fan of the tv show Farscape, I have to say I am really impressed- Ben Browder, Claudia Black, & Virginia Hey are all going to be there!!!! Check out the full list at www.dragoncon.org. Memberships and information can be obtained at www.dragoncon.org/members.php#DC_Memb .
Of course, DragonCon isn't exactly the only opportunity our fans in America will have to see us play. Not if you count playing on a boat that leaves from the US!
As many of you know, The Cruxshadows have been booked to headline the Gothic Cruise in October of this year. The Gothic Cruise is a regular event that takes place on the Carnival Cruise Lines and promises to be a lot of fun for everyone. This year the Cruise will feature a performance by us, as well as State of the Union, Modulate, & Cruciform Injection. There will also be DJs, a fashion show, several parties, and a whole lot more. The cruise is based out of Tampa Florida, and will sail to the Cayman Islands, Mexico (Cozumel), Belize, & Isla Roatan. If you register soon, you can use the special code crux001 and receive an additional $50 discount. To help our fans outside of the USA, a $100 discount is available if you are a resident of Europe or Australia. Food and alcohol are provided as part of the ticket price, but the prices will continue to go up, so we encourage you to book your trip soon. You can find out more info by going to www.gothiccruise.com.
If you have never booked a cruise before, or simply want to speak to a real human being, you can call the Gothic Cruise Booking Office at (813) 325 – 7435. Although tickets will probably be available up until the ship sails, the price only gets steeper the longer you wait. Don't delay, take that (gothic) romantic trip you have been thinking about;-)
Remembering Ray
On a very sad note, Ray Moresco, JoHanna's father, was recently killed in a motorcycle accident. Ray was JoHanna's best friend, and was a huge supporter of the band. He loved music, and he passed that love on to her. He had planned to move from Kansas to Florida to be with his daughter, and often told his friends that he would like to tour around the country with us. JoHanna has had a very hard time, but has hung in there. She was her fathers only child and they were both very proud of each other. She would like to say thank you to everyone who has shown their love and support in this difficult time. Take care Ray, love to you from JoHanna, from me, and from the band. We know somewhere out there you'll get the message.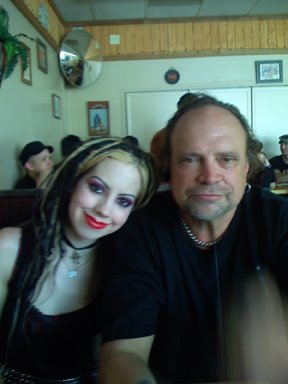 New Music…
As a final piece of news, we will be releasing a new single very soon entitled Quicksilver. (Hence the name of the above mentioned tour… a little forshadowing there:-) ) It will come out the first week of September in the USA, and although the date for Europe is not yet decided, it should be about the same (if not before). It will feature three brand new tracks- Quicksilver, Avalanche, & Roland; as well as a Quicksilver radio edit and club mix. We think the single sounds great, and we are hoping to take another shot at the billboard charts. Obviously , we need everybody to get behind us in order to make this happen. I'll see about getting a song excerpt up soon, maybe some lyrics… so keep checking back. You will hear a lot about this song, as it is incredibly important to the band that this single does well. Fortunately we will be able to use Dragoncon again to help push the release of this single. Please spread the word any way you can, we need to generate a real buzz…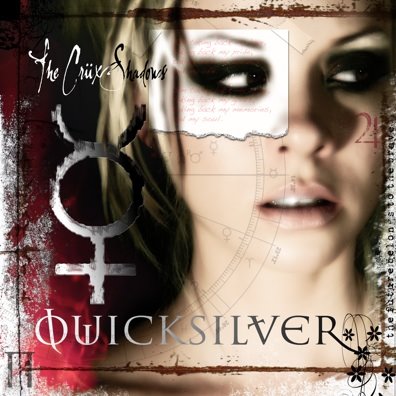 I think it may be possible to push for radio play in the USA. We will look at what can be done to help promote this CD, and if any of you all want to help (IE street teaming, radio connections, blogs, podcasts, reviews, etc), please let us know…
We'll have more information about the release very soon.
Odds and Ends
We have made some inroads towards getting our online store up and running. I know you've heard that before:-) But hopefully we can make something actually happen in the next few months…
A special thanks to all of those who are helping to support the band by bidding on old posters, postcards, mugs, & bracelets on Jen's ebay page. We really appreciate your help. Please know that the money from these auctions helps us to keep our operation going. Sincere thanks. We may be putting a few one of a kind items on there soon as well, so bookmark her page;-)
There may be a couple more surprises in store for the future. But I think that we have covered enough for the time being. Once again, thank you for your loyalty and support. We love you all.
Live Love Be Believe-
Rogue of CXS